You could subtitle this post "Wishful Thinking." Week Four of Whole 30 was even rougher than Week Three for me. Some things were unavoidable. My baby was sick 5 out of the 7 days, so I didn't really leave the house. Then, when I finally went grocery shopping, we had a bit of a communication kerfuffle, resulting in all of the meat I bought being left in a 120 degree car for three hours. Yep, I could have cried. Long story short, I don't actually know what I ate for Week Four. I vaguely remember some chicken salad, a couple of cans of tuna… it's sad and I've blocked it out. For you, though, if you are following along in the Whole 30 journey (or at least the eating healthier journey), here is the meal plan I wish I had followed.
(Seriously, if you want to do Whole 30, PLANNING IS KEY. I just like to wing it, as you know, but that just isn't working this month. It means that I'm hungry most of the time and want to eat everything in sight. That's not the goal of the program, and I'll probably fall right back into my sugar-junkie habits, haha. Luckily for you, you have a meal plan to follow right here. Missed the others? Here are links to Week One, Week Two, and Week Three.)
I love olives. My husband doesn't like me to cook with green olives after one particular dish a million years ago that he hated, but nevertheless, I love olives. I like the look of this easy Instant Pot meal and think I'll try it out soon. Guess I'll make a side of mac and cheese for the haters. 😀
I haven't yet tried meatloaf in the Instant Pot, but why not? Looks pretty fool-proof. I guess you could use any meatloaf recipe, but the spices look great in this recipe, and it's already tailored for paleo/Whole 30. You can even stack things up and cook your potatoes at the same time!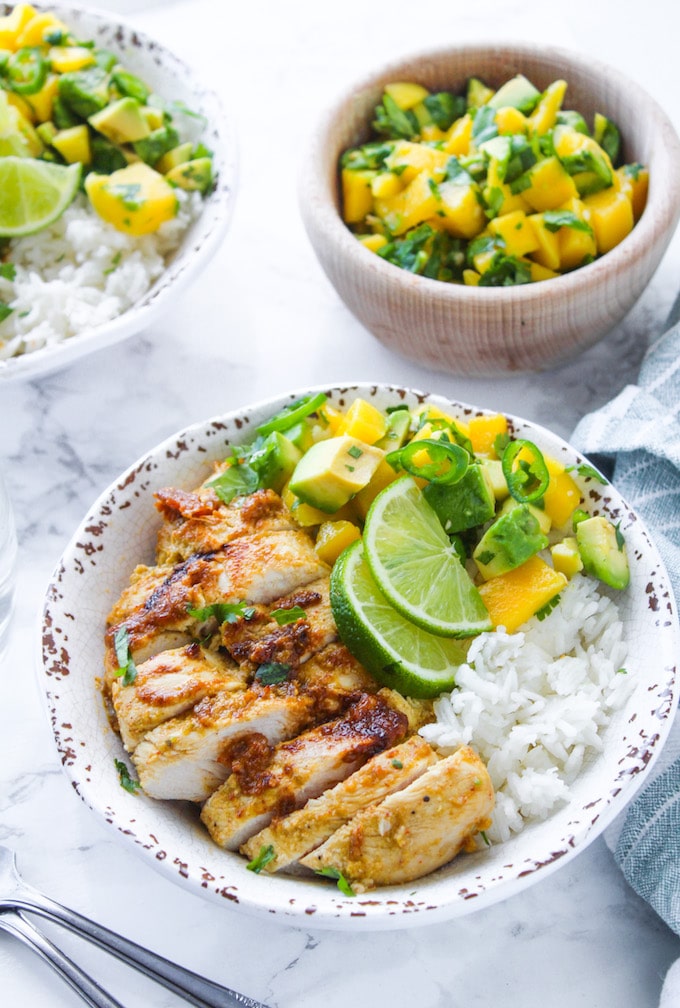 My husband asked for Jamaican Jerk Chicken a long time ago, but I haven't made it yet. Evidently, I just hadn't found these pictures, because doesn't that look great? It looks like a lot of ingredients, but you mostly just throw them all in the blender for a yummy marinade. I'm guessing that it works best if you let it marinate for a couple of hours at least.
Salads, of course, are a staple of clean eating. Any salad can become a BLT salad with the magic ingredient: bacon. You have to check your labels, but you can find Whole 30-compliant bacon. Feel free to add as much as you want. 🙂 I would top this salad off with my new favorite dressing: Tessemae's Creamy Ranch. I've already bought two of these this month, and plan to keep it in stock!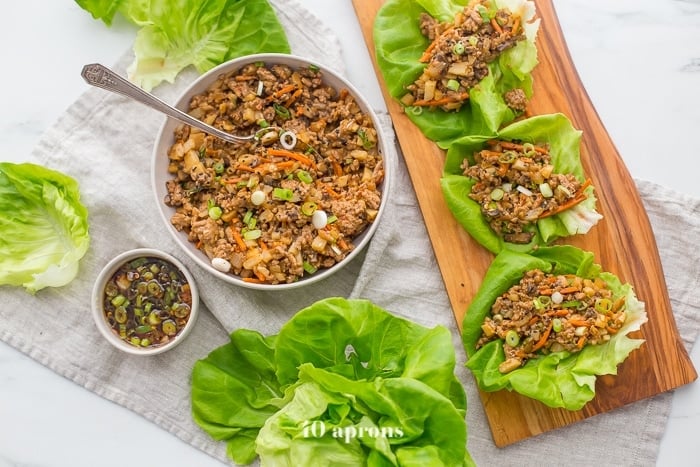 I've never even been to PF Changs, but "my tummy is grumbling" (kid quote) just looking at this picture. I'm making this soon, you had better believe it. Have you had PF Changs' lettuce wraps? Are they as good as they look?
Despite what they say, I'm at the tail end of Whole 30, and I still miss sweets. I do. It's a habit 39 years in the making, and 30 days isn't going to break it. So, this recipe had me at "pineapple." I'm ready for a sweet dinner. It also includes one of my favorite ingredients: Frank's Red Hot Sauce. It's a keeper!
I saved the best for last. BUFFALO CHICKEN EVERYTHING!!! If these turn out half as good as I think they will, this recipe is going in the rotation forever. Except that you know I'll be adding the bleu cheese once I can eat it again.
Shhh... Whole 30 dessert for when you are desperate. Your secret is safe with me!
Click To Tweet
So, here's the deal. Technically, I'm done with Whole 30. I'm on day 33. I'm really trying to keep up with the entire food reintroduction phase; otherwise, what's the point? Part of the Whole 30 program is to discover the foods that affect your body negatively. It's an elimination diet. So, if you don't reintroduce food groups separately with time to evaluate, you won't know if it's the gluten or the dairy or the legumes or whatever that affects you. However, I was a Domino's order away from throwing in the towel today. And I was really craving a treat. Now, Whole 30 does not allow "treats," even if they are made with fully compliant ingredients. Tonight, though, I figured that it was a better alternative than ordering the pizza. I threw together something like this recipe, but even simpler:
a can of coconut milk

about 1/4 cup cocoa powder

1/4 cup chia seeds

cinnamon

a dash of cayenne pepper (sassy!)
If I had thought of it, I would have added some coffee to it, too. Also, had I taken the time to blend it in the blender, I would have added a couple of dates for sweetness. For time's sake, I left it bittersweet.
It worked! Chocolate fix complete. So, here's a handy trick up your sleeve. If you are on the verge of giving up, just whip this up and get over the hump. I won't tell.
One way or another, we did it! 30+ days of clean eating. Hopefully you are feeling healthy and strong and have a new arsenal of recipes to draw from in the months to come. I know I do. It's empowering to know that I can whip up a healthy meal in minutes…. provided I don't leave the groceries in the car.